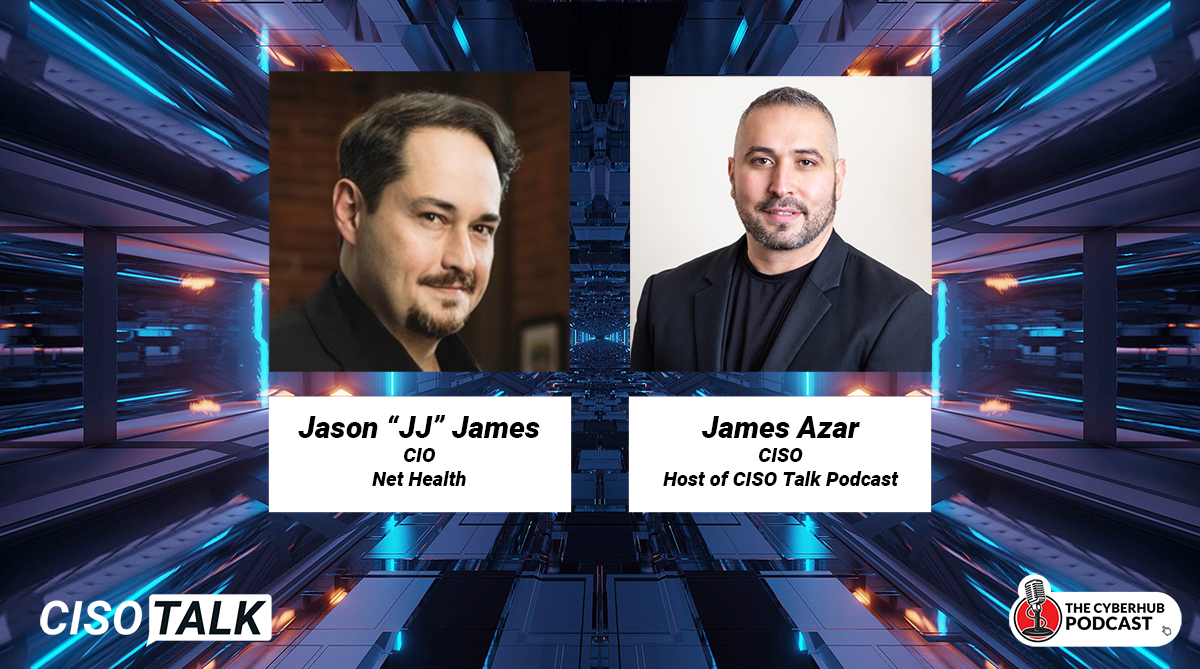 Jason "JJ" James joins CISO Talk host James Azar to discuss leadership at the CIO level for CISO's, how he views security and builds his team, aligns security with IT function and also talks about the CISO reporting challenge. JJ shares a lot of insight on how the industry is evolving and how CIO need to align with CISO quickly to ensure they are informed and planning security by design.
Bio:
Transformational CIO with over 20 years IT Leadership experience and 15+ years' experience in managing global IT infrastructure, cybersecurity, strategy, IT governance, and operations. Extensive IT leadership in SaaS, mergers and acquisitions, security, infrastructure management, disaster recovery, cloud computing, and partner relations. Frequent industry speaker and contributor to IT thought leader publications and podcasts. 
Expertise: Leadership, Digital Transformation, Disruption, Cloud Computing, SaaS, Infrastructure, Security, Turn Around, Big Data, IT Management, International Operations, Mergers and Acquisitions/Divestitures, Start-ups, Data Center Management, DevOps, Network Management, System Administration, IT Project Management, Tactical and Strategic Planning, and Disaster Recovery.
Linkedin Profile: https://www.linkedin.com/in/itlinchpin/
"The Microsoft Doctrine" by James Azar now on Substack https://jamesazar.substack.com/p/the-microsoft-doctrine
CISOTalk Webinar Series: Modernizing the Vendor Risk Management with Airbnb and Whistic Webinar on May 25th, 2021 register here: https://zoom.us/webinar/register/WN_Frugj1ehRbOa3v05tTP7Qw
CISO Talk is supported by these great partners please make sure to check them out:
KnowBe4: https://info.knowbe4.com/phishing-security-test-cyberhub 
Whistic: www.whistic.com/cyberhub
Attivo Networks: www.attivonetworks.com
****
Find James Azar Host of CyberHub Podcast, CISO Talk, Goodbye Privacy, Tech Town Square, Other Side of Cyber and CISOs Secrets
James on Linkedin: https://www.linkedin.com/in/james-azar-a1655316/
James on Parler: @realjamesazar
Telegram: CyberHub Podcast
******
Sign up for our newsletter with the best of CyberHub Podcast delivered to your inbox once a month: http://bit.ly/cyberhubengage-newsletter
******
Website: https://www.cyberhubpodcast.com
Youtube: https://www.youtube.com/channel/UCPoU8iZfKFIsJ1gk0UrvGFw
Facebook: https://www.facebook.com/CyberHubpodcast/
Linkedin: https://www.linkedin.com/company/cyberhubpodcast/
Twitter: https://twitter.com/cyberhubpodcast
Instagram: https://www.instagram.com/cyberhubpodcast
Listen Here: https://linktr.ee/CISOtalk
The Hub of the Infosec Community.
Our mission is to provide substantive and quality content that's more than headlines or sales pitches. We want to be a valuable source to assist those cybersecurity practitioners in their mission to keep their organizations secure.