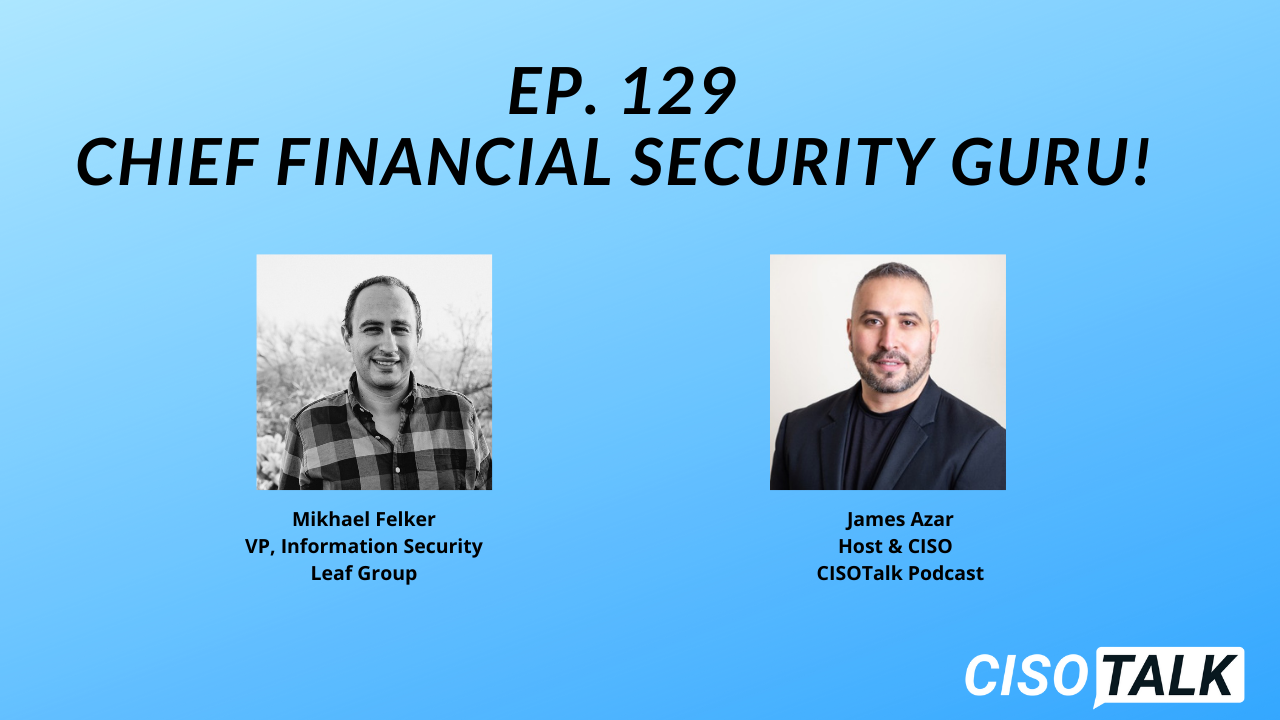 Mikhael Felker, VP of Information Security joins the show this week to talk about how he has mastered the financial part of the cybersecurity practice. Mike spends time with us to talk about employment opportunities, how he kicked off his career and what he looks for when hiring new talent.
Bio:
Information security executive experienced in security, privacy, risk & compliance program development and execution. Diverse sector experience (High Tech/Advertising, eCommerce/Consumer Goods, Education, Healthcare, Defense, Insurance). Extensive regulatory experience in (SOX, GDPR, CCPA, PCI, HIPAA, NY DFS, etc.) and frameworks (ISO 2700X, ITIL, NIST, CoBIT, etc). Ability to explain deeply technical knowledge to broad audiences and influence stakeholders to buy-into solutions. Conference speaker (RSAC, CSA, ISACA, ISSA, ISC2, ARMA, et.al.), educator, mentor and author of 50+ publications.
Note: Views and opinions expressed are my own and do not necessarily reflect the views and opinion of my employer.
https://www.linkedin.com/in/mikhaelf/
CISO Talk is supported by these great partners please make sure to check them out:
KnowBe4: https://info.knowbe4.com/phishing-security-test-cyberhub 
****
Find James Azar Host of CyberHub Podcast, CISO Talk, Goodbye Privacy, Tech Town Square, and Other Side of Cyber
James on Linkedin: https://www.linkedin.com/in/james-j-azar/
James on Parler: @realjamesazar
Telegram: CyberHub Podcast
Locals: https://cyberhubpodcast.locals.com
******
Sign up for our newsletter with the best of CyberHub Podcast delivered to your inbox once a month: http://bit.ly/cyberhubengage-newsletter
******
Website: https://www.cyberhubpodcast.com
Youtube: https://www.youtube.com/channel/UCPoU8iZfKFIsJ1gk0UrvGFw
Facebook: https://www.facebook.com/CyberHubpodcast/
Linkedin: https://www.linkedin.com/company/cyberhubpodcast/
Twitter: https://twitter.com/cyberhubpodcast
Instagram: https://www.instagram.com/cyberhubpodcast
Listen Here: https://linktr.ee/CISOtalk
The Hub of the Infosec Community.
Our mission is to provide substantive and quality content that's more than headlines or sales pitches. We want to be a valuable source to assist those cybersecurity practitioners in their mission to keep their organizations secure.